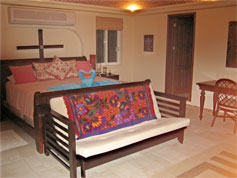 The Gardens
The exteriors are one of a kind with a large lawn trimmed in colorful hibiscus, orchids, oleander, bougainvillea, banana trees, shrimp flowers and stately coconut palms. The lawn is a great for kids to play or swing in a hammock chair. At your request we can put up badminton, croquet or volleyball ... or you may simply enjoy napping in one of the many hammocks under a gorgeous shade tree. We have worked very hard to plant a wide variety of fruit and flowering trees for our guests to enjoy. Comfortable lounge chairs dot the property to ensure countless locations to rest and relax. The custom designed pool is tiled in deep blues and just a few steps away is a powder room and patio wet bar and fridge stocked with soft drinks and juices.
Swimming
The large free form pool has lounge chairs and looks out to the sea. The pool has a wonderful jucuzzi and the new zero salt, zero chlorine, Ecosmarte System. Ocean swimming is easy from the villa. The reef protects the beach from large waves and ensures good snorkeling throughout the year..
Our Beach
Beyond the lawn is over 700 feet of a private sandy beach with clear water and an excellent reef. Sea kayaks and snorkeling equipment are complimentary. As a special evening treat, the staff can plan an ocean side barbecue, with chicken, ribs, chops, fish or lobster, or a nighttime bonfire on the beach complete with marshmallows for the kids.
The Villa's Interior
Interiors at Jamaican Breeze will be almost as breathtaking as the ocean view. The doors open wide from the living and dining room to the lovely ocean and garden view. All six bedrooms are air- conditioned. However, you may wish to leave your doors open at night to enjoy the cool Jamaican breeze, the sounds of the tree frogs and the waves lapping on the beach.
The formal dining room has doors that lead to the outside patio and pool area. There is also a large outdoor dining area under the covered verandah
Bedrooms
Each exquisite bedroom is situated to take advantage of its own fantastic view of the Caribbean ocean and the beautifully landscaped grounds. All six bedrooms are very spacious and designed with its own sitting area and unique theme. Each is tastefully decorated with custom furnishings and luxurious bedding. Every bedroom is equipped with remote control quiet air conditioning, ceiling fans, blackout curtains and en-suite baths. In addition each bedroom has a small refrigerator, wall safe, flat screen tv, and telephone with intercom to the other bedrooms, the kitchen and staff quarters. An iPod docking stations is also available in every bedroom. If you happen to forget your iPod, all rooms feature video touch pad access to multiple music sources for the room and outdoor terrace. The bathrooms are distinctive for their size, double vanities, beautiful tile work, large garden tubs and huge showers with double showerheads.
The Peacock Suite is located on the main level with a four poster king size bed and doors that open to a private walled garden with a Jacuzzi and outdoor shower. This suite also has an adjoining office alcove
The Bamboo suite is furnished with custom made bamboo furniture including a bamboo canopy bed and dresser
Jungle suite
Reef suite
Palm suite has an adjoining office alcove
Blossom suite
Child Friendly Features
A Jamaican Breeze has been designed with children in mind. With our zero entry pool with slide, our beautiful sandy beach, which gently slopes into the ocean and our large yard and gardens, children will find new adventures await around every corner. We have a large selections of children's books, videos, games, pool and sand toys. We also have a special treasure map just for the kids that will lead them to several buried treasures hidden around the villa grounds.
For those who love nature and animals we have our very own touch tank and hidden garden with a miniature zoo. Sylvan, our gardener, will take everyone on a special tour of the gardens and allow you to pick fruits that are in season, including coconut, banana, pineapple, limes and more. The kids (and the adults too, if they wish) can take the fruit that they have collected to the kitchen and make their own fruit smoothies.
Meals
Imagine . . . beginning each day with fresh-squeezed orange juice and fresh-ground Blue Mountain coffee, fruit, bagels and muffins on the verandah, followed by full breakfast when all guests are ready. Extraordinary lunches and memorable candlelight dinners served in the dining room, on the verandah or even on the beach.
Dining is truly an experience to look forward to during your stay at A Jamaican Breeze. This is your vacation. You can choose your own menu and when and where you would like it served. You can even choose to have the chef plan a torchlight beach party with chicken, chops, steaks, fresh fish or lobster served sizzling from the outdoor coal grill. If you would rather leave the meal planning to our extraordinary chef - No Problem! The typical grocery budget here is $40 per adult per day, $25 per child per day, although your cost can vary greatly with your taste. The outdoor barbecue allow guests to enjoy outdoor prepared meals as well as those from the fully equipped kitchen.
A Jamaican Breeze Villa Floor Plans
Click on either floor plan for an enlarged view in a new window.
This is not the actual floor plan of the villa. These are just being used as place holders until we are able to upload the new images.