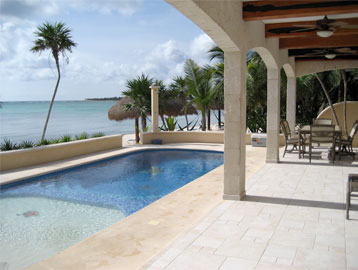 A Jamaican Breeze is dream in the making, and scheduled to be complete for the winter season of 2013. Once complete, it will offer a 6 bedroom 8 bathroom beach front villa on it's own private beach in Runaway Bay, with three additional one and two bedroom apartments. A Jamaican Breeze Villa is nestles in a lush tropical garden with three beautifully landscaped aces filled with a wide variety of fruit and flowers. The Estate boasts a breathtaking view of the Caribbean sea and it's own private 700 foot white sandy beach.
If your idea of a perfect vacation is having space to spread out and relax, total privacy on your own beach, in a private pool or lush gardens, then A Jamaican Breeze is exactly what you are looking for. It is spacious yet secluded, allowing you to get away from it all. This villa is designed so that the first floor is totally wheelchair accessible and is one of the most child friendly villa on the island.
Please note that all the pictures on this website are just being used as place holders. We will replace them with our own pictures as construction on the villa and the grounds occurs.